Our Story
Year after year, Kaman delivers technical breakthroughs and innovative solutions that ensure our customers can meet their performance goals. This is possible only because of the people who work on our shop floors and walk our halls. With uncommon commitment, they dig into the challenges that come our way and work until they find answers.
This dedication distinguishes our employees, but it only matters if the business is there to support it. For decades, the driving concern of our leadership teams has been the enduring strength of the company – long-term results, not short-term headlines. As a result, we are a thriving enterprise able to adapt and invest as a business and an employer.
We recognize the importance of both the individual and the team to achieving significant change and innovation. So, we provide career development through mentoring programs, leadership and skills training, and education reimbursement.
As a $1.8 billion global company, we have a wealth of options for broadening the work experience. Employees regularly change positions within the company, moving between teams, divisions, and our business units – sometimes even relocating to one of our 21 international facilities.
Our founder was right over 70 years ago, and is still right today: what sets us apart is our people. As technology advances and industry shifts, Kaman will always be a place where people can come to work to make a difference and support the life they choose.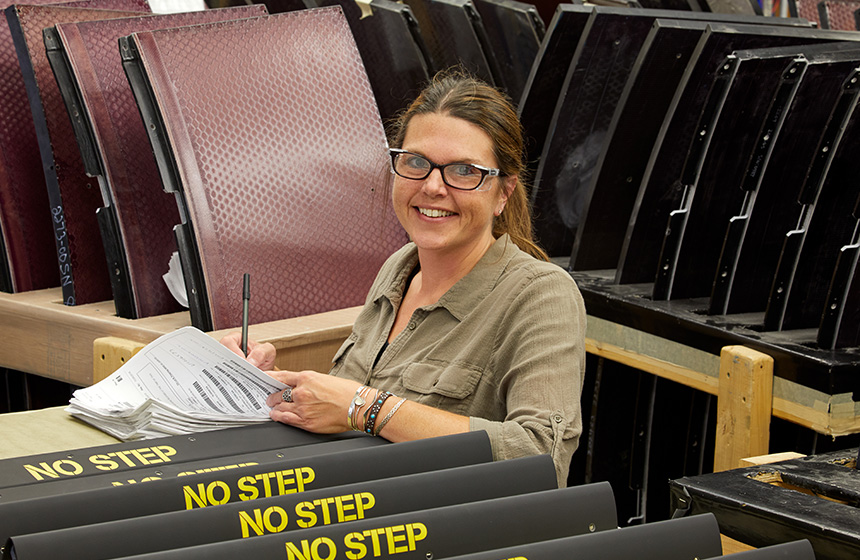 Strategic Growth
We are a thriving enterprise that has been able to evolve and grow at a pace appropriate to the time, the needs of the market, and the state of the business. This is by design. The driving concern of our leadership teams is the enduring strength of our company – long-term results and not short-term headlines.
Early on, we diversified as a strategy for balancing the cycles of the aerospace and defense business. Since then, we have established our distribution presence across the country while adding complimentary aerospace capabilities in Europe and Asia. Maintaining the practice of smart, strategic growth allows us to make promises we can keep, to both our employees and our customers.
Continuous Development
As technology advances and our customers evolve, so must the skills we employ to solve their challenges. Every year, we invest millions of dollars toward raising our employees' skill levels and building our company's potential.
This learning mindset is also true for the soft skills of leadership. We are continually looking for and readying the next generation of leaders at all levels, providing opportunities for career development and advancement. There are always challenges on the horizon. We strive to stay one step ahead, so we are ready to respond when our customers need us.
Inviting Contribution
The challenges we take on for our customers are not run-of-the-mill, quick fix variety. Our products get planes in the air and keep them there. We have parts orbiting the Earth and on the surface of Mars. We support industrial businesses from manufacturing to mining, ensuring their efficiency, productivity, and profit.
This is possible only because every one of us takes ownership of the work we do. There are no bad ideas and no good-intentioned effort is wasted. Whether executing a small task or brainstorming a system solution, our collective commitment to contributing our best at every opportunity is what allows us to serve our customers effectively and build lasting partnerships.
Accessible Leadership
Like every company our size, to operate efficiently, we have a hierarchy of responsibility. We are not, however, prisoners of the org chart. Two hallmarks of our leadership philosophy are visibility and availability. These are expected at every level, from CEO to Cell Leader. We are employees, but we are people first, and we treat each other in ways that make that clear.
Executives and managers are just as likely to be on the shop floor as they are to be in their offices. First names, handshakes, real questions, honest answers – an environment of respect and application makes us stronger and more resilient. And when problems do arise, it enables us to get to work on an answer more quickly and efficiently.
Team Impact
We each bring vital personal skills and experience to our jobs. Yet, as valuable as they are alone, even greater potential exists in collaboration with colleagues. By forming and nurturing strategic partnerships within and between teams, divisions, and businesses, we reveal opportunities and solutions that would otherwise be missed.
The actions we take in concert also help bolster the ability of individual team members to contribute. And, as this knowledge spreads out into the company, the value of a team's work goes beyond its initial objective and builds the capacity of the entire organization.
Contact KAMAN
Kaman builds to print and custom engineers thousands of precision parts. Contact us.
Headquarters:
1332 Blue Hills Avenue
Bloomfield, CT 06002
Mailing Address:
Kaman Corporation
PO Box 1
Bloomfield, CT 06002
Phone:
+1 860.243.7100